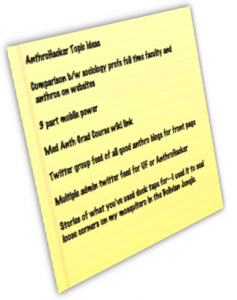 AnthroHacker is looking for good ideas for post topics.  We're also interested in any suggestions on what you would like to see in our site design and services. Finally, we'd like to hear from you if you think you should be the next great contributor on AnthroHacker.
To get things started, a couple of us put together the following list of planned posts for the near future, check them out and then let us know your ideas!
AnthroHacker Future Topic Ideas:
A three part series on Mobile Power Options in the Field
A cheap and simple way to immediately connect with your community through technology
How to Get Mobile Internet Access Anywhere (almost) and Why That's a Good Thing for Anthropologists
A systematic comparison of full-time faculty profiles available online from top anthropology versus top sociology programs.
How should we make use of online classroom projects after the semester ends? The case of course Wikis.
Site Design Ideas:
A twitter group feed from the personal accounts of AnthroHacker contributors and/or a twitter feed available to all contributors and/or a common hashtag