Anthropology is known for its harsh living conditions for fieldwork. Conducting fieldwork in a remote desert, rainforest, mountaintop, or arctic conditions is commonplace and a seeming hazing ritual that each anthropology graduate student must undergo to be considered "in the club". In fact, I've heard professors joking before that if you're not suffering while conducting fieldwork, you're not really doing anthropology. While this is clearly untrue, many of the populations we study are marginalized, living in rural, desolate or geopolitically sensitive areas that are hard to reach.
Nevertheless, specialized equipment and clothing, such as water filtration systems, therma-rests, sleeping bags, bug repellant clothing, waterproof backpacks and pelican cases, mosquito nets etc are costly and often not covered by grants but are essential for those of us who work in these remote settings. While we're used to writing grants to funding agencies to support projects, a little-discussed topic is contacting companies directly for support. In this post, I'll give advice on how to ask companies for support/donations of these items.
Before I received funding from NSF and Wenner-Gren after multiple rejections by both agencies and others, I was staring at taking out $20,000 in loans to self-finance my doctoral research and that wouldn't even cover a lot of the items that can make living in the Bolivian Amazon a bit more comfortable. So I started a list of all of the major items I needed and thought that it would be a good idea to ask the companies for donations, because as poor graduate students asking for free stuff is not beneath us.
Here are some tips for navigating this little discussed process. You can modify it as you need.
1) Systematically go through each company's catalogues online and make a spreadsheet with the specific items, the address, and the name of the president/person in charge of customer relations for each company.
2) Using a stock letter, you can personalize the letters to each company.
In the letter, have a) a brief introduction of who you are, b) what your research is about, c) the location of fieldwork, d) indicate the exact name and number of the products you want from the company, and e) write your name and give a link to your personal/research/blog webpages.
3) Print out each letter and sign it. However, some companies prefer that you inquire online for support/requests for products. Using snail mail is a good touch, but emailing can be effective as well.
I included 2 pictures that I printed out to include with the letters, of me conducting fieldwork and in South America. I ended up sending letters to 15 companies and spent a total of $12 for the postage and printing the 30 pictures.
Here is the stock letter I used:
Date
Your name
Your address
Name of the person to whom you are sending your letter
Job title of person to whom you are sending the letter
Name of business or organization
Street address
Town/city, state/province zip/postal code
Dear Mr./Ms. (name of person to whom you are sending the letter):
I am a PhD candidate at the University of Georgia in the anthropology department. I will be traveling to the Bolivian Amazon for 12 months to conduct my dissertation research. My research investigates socioeconomic and cultural factors and health outcomes associated with how people meet water needs during rapid social change among Tsimane', an indigenous population in lowland Bolivia. The search for safe water remains an important challenge today as more than 1.1 billion people lack access to clean water. This research will increase knowledge about water sources, hydration, water-related diseases, and health during rapid change with implications for public health in developing countries.
I will leave for Bolivia in late June 2013 and stay through June 2014. I will conduct dietary interviews, participant observation, and economic surveys as well as measure height, weight, and body composition to answer these important anthropological and public health questions.
Having been to my field sites three times, I have many of the supplies needed to complete a longer trip. However, while I've applied for funding from many governmental and private organizations, the funding only applies to research-related expenses and does not cover costs for living supplies while I'm in the field. As a graduate student, I have limited income to purchase supplies necessary for this trip and am grateful for any support I can receive from generous companies. To complete this project, I could use (Specific Product(s) and product number). I would be most grateful if (name of business/organization) could donate any of these items to help us in our trip. If you are interested, I will keep you informed with regular updates on the progress of the project.
Please contact me at (XXX) XXX-XXXX or emailaddress@uga.edu if you are able to help. Thank you for your time and consideration of this request.
Sincerely,
Asher Rosinger
http://anthropology.uga.edu/people/grad_students/rosinger/
Out of the 15 companies I contacted, I had a response rate of 20% and a success rate of 13% – about par for the course if you're applying for grants. I heard back from Exofficio, Lifesaver, and Sea to Summit. Exofficio told us they don't normally support research with product, but would be glad to consider us as adventure correspondents and wanted to know what social media outlets I would use to advertise their products. I applied, but was not selected. Lifesaver responded to us, I asked them for a new water filter cartridge and other accessories for our Jerrycan water filter that costs about $300, they responded saying they could not give it to us for free but could give us a 30% discount, which was a savings of ~$100 #awesomediscount. Finally, Sea to Summit responded with the email posted below: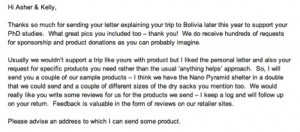 Their response highlighted 2 important points for writing letters: 1) personalize the letter; and 2) request specific products, rather than 'anything helps'. Reviews are important to companies and who better to review products than anthropologists who are roughing it. They ended up sending us ~$200 worth of product (dry sacks, mosquito net, special towels) that I would have spent out of my own pocket. By the way, Sea to Summit rocks!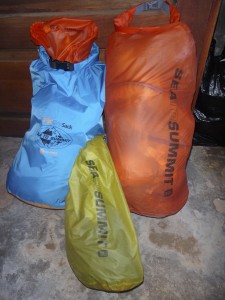 In summary, I spent about $12 (plus time I spent figuring out what I needed, which was important to get organized for the trip) and I got about $300 worth or products and discounts. Training in anthropology and grant writing has its advantages, mainly being able to concisely write about your research so that others will give you money or other forms of support. While you're writing and getting rejected from grants, why not consider spending some time asking for (and getting rejected from) other sources of support because nobody is going to give you anything unless you ask for it.