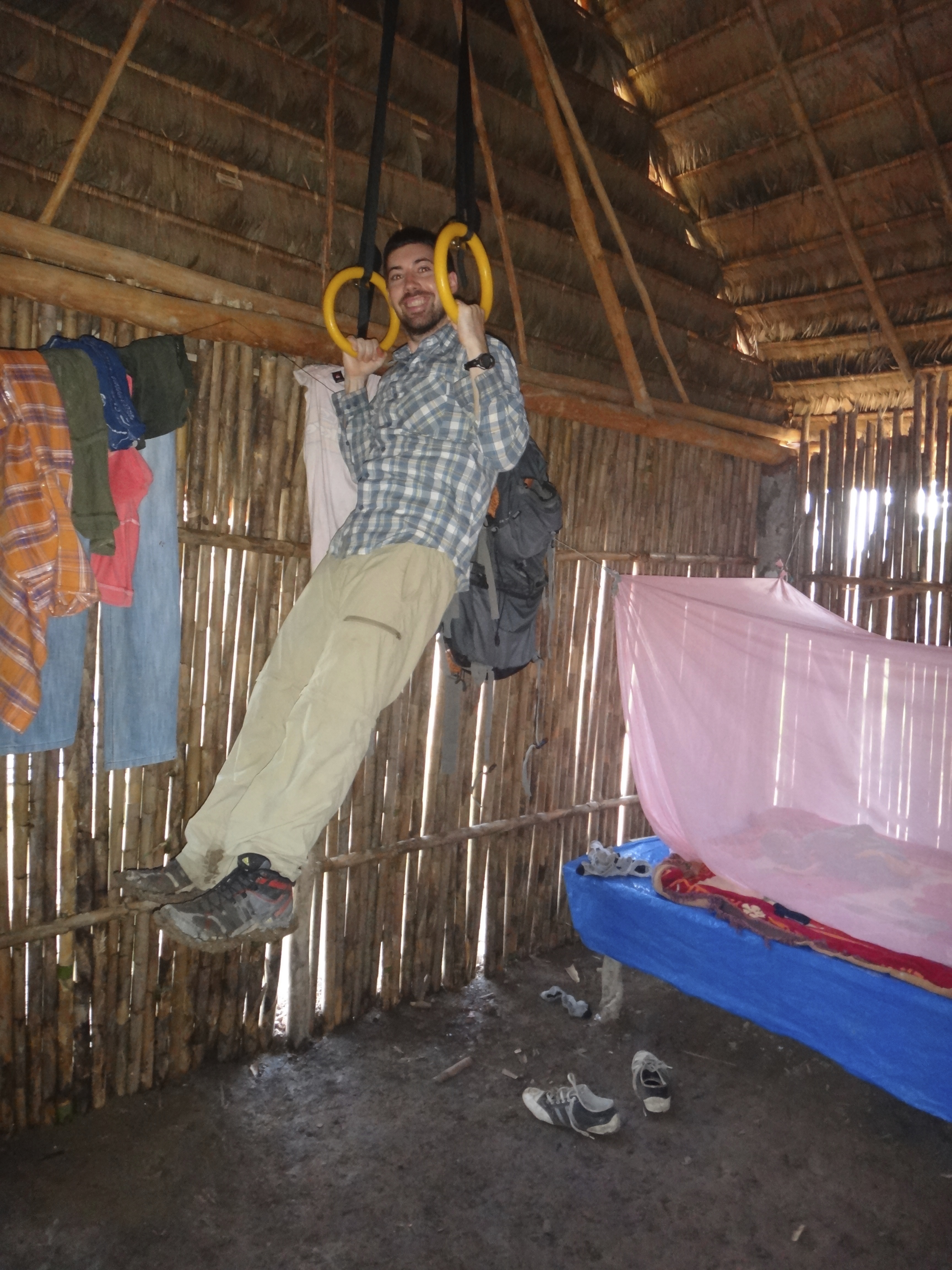 Asher doing a standard pull-up on gymnastic rings during fieldwork in Bolivian Amazonia.
When I was in graduate school, fellow students would often tell me they didn't have time to work out because they felt they needed to constantly be reading/studying/working in the lab. However, my response was "you don't have the time not to work out." Sitting in front of the computer all day and being sedentary can harm productivity. Those exercise breaks, even if it's just a walk, can help ideas solidify, relieve stress, and provide a much needed break for personal time, which can bring you back to your work more refreshed.
One of the greatest challenges in conducting fieldwork or while traveling for work is that normal routines are disrupted. It's easy to forgo exercise especially if you're in a place where exercise is not part of the culture or time is limited, like at conferences. Often these interruptions in exercise are accompanied by changes in diet as well as a tendency to slip into bad habits, like smoking or drinking more than usual, often to deal with the stress of fieldwork. It's important to be conscious of the stressors you face in the field and head them off in positive ways that allow for productivity and health both in mind and body. In this post, I'll detail a few key tips and one piece of equipment that can be used to stay fit in the field or while traveling.
Exercise, whether it's running, biking, swimming, yoga, interval training, weight lifting, or body weight work, is critical to staying healthy in the field. For me, it provides a dedicated time to process what has happened throughout the day or the previous day, to plan for upcoming events, and to decompress as well as maintain fitness. While fieldwork for many involves a lot of walking or hiking (in the Bolivian Amazon, I sometimes walk 4 hours or more per day doing focal follows or interviews) and manual labor like carrying water, which can suffice for staying in shape, not all field sites offer that level of physical activity. I find that I still need dedicated time for exercise. Honestly, it's where and when most of my best thinking takes place.
So, what can you do to stay fit in the field? The answer is to do what you can with what you have. It really depends where you're conducting fieldwork and what facilities/environment you're in and have access to. If you're in a place where it's safe to run, then tracing out a 3-4 mile route for an early morning or late evening run is a perfect way to stay in shape and have crucial time to yourself. In San Juan, Puerto Rico, I lived in a hotel for 4 months during 2016 while working on Zika Virus surveillance. Living in a hotel while working 10-14 hour days was extremely taxing. But I would get up at 5-5:30 am and go on runs 3 days a week. I also used the hotel gym a couple days a week, and I swam in the ocean on the weekends if the water was calm.
However, some field sites are more extreme and without access to safe areas to exercise or facilities. There, finding time and an appropriate place to exercise is more challenging. This problem can be compounded for women, who are more likely to face sexual assault and other dangers (as described by Clancy and colleagues) while conducting fieldwork. Safety while exercising is crucial, but field safety is such an important topic that we should devote a whole blog post to it that perhaps one of our readers could contribute, i.e. their best Anthrohacker tips (gadgets, apps, or safety behaviors) on staying safe in the field.
In one of my field sites, the Bolivian Amazon, running isn't practical like in Puerto Rico because all the stray dogs are praying for you to come running by them so they can chase, bark, and potentially bite you. Not to mention the heat and humidity makes staying hydrated during even restful activity difficult. Also, gyms are scant and far in between, so creativity and flexibility is crucial. Stretching and body weight work are what I end up doing in Bolivia, and I found that only one piece of equipment was necessary.
I bought Nayoya gymnastic rings (Amazon.com), which have solid reviews, held up during my time in Bolivia and were fairly easy to assemble and dissemble. They were a little heavier than I expected, but not too heavy. Gymnastic rings are transportable, fun, and can be used for many exercises, which provide a great core and upper body workout. The only thing necessary for them is a beam or a solid tree branch to which you can connect the bands. (Disclaimer: if you use these, make sure that whatever you attach them to is structurally sound, otherwise injuries can occur!) With the gymnastic rings, you can perform three essential exercises – pull-ups, dips, and knees to elbows/toes to ring – that exercise most of your core and upper body. And for more advanced workouts: muscle ups.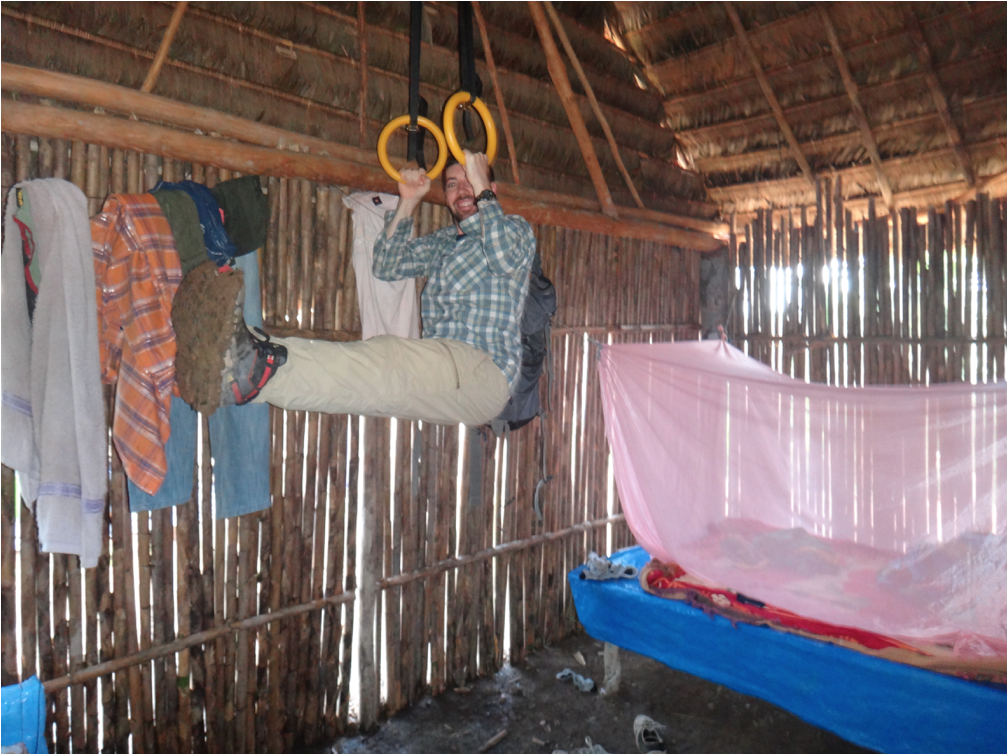 Asher doing L pull-ups, which are a great core and upper body workout.
Even if you don't buy the gymnastic rings, body weight work is easy to do and doesn't require any equipment. What I try to do is 3-5 rounds every morning of:
15-30 repetitions of push-ups, squats, and sit-ups alternated with 60 second planks and side-planks.
Try not to rest between rounds to increase the cardio aspect of the workout
On alternate days, switch out the squats and push-ups with burpees (check out an example video embedded below).
Combine with sit-ups and planks to hit most major muscle groups.
This workout should take 20 minutes max.
I try to stretch daily even if I don't workout. Stretching helps with flexibility, recovery, and provides a nice time for mindfulness (which may even decrease risk of heart disease). I stretch with a routine that utilizes some yoga poses: camel, cat, up-dog, down-dog, and pigeon. It can also be done in a private, small location, like a mosquito net or tent.
The timing of the workout can also increase or decrease likelihood of following through with the workout. I try to schedule my exercise before showering and before a meal so that the shower or food feels extra rewarding. Also, it's important to remember to increase water intake with exercise and eat a diet that is healthy.
The key message is that like fieldwork, you have to adapt to the environment, be flexible, and take care of yourself. Don't let the lack of a gym dissuade you, and if there are safety issues, talk to your trusted colleagues to either find out what you can do safely or exercise together. Carving out twenty to thirty minutes of exercise on a daily basis can create an amazing cascade of positive health effects. Knowing you're going to work out in the morning also helps decision-making at night. Perhaps you pass on having that extra beer, because you know that your morning run is going to suffer or you'll feel bad while running or you won't want to get up early to work out. Even in field sites where exercise is built-in, adding in stretching and meditation can help deal with stress and improve health and well-being. Tell us what you do to stay fit in the field!